Especially in large and multi-bed hospitals, dirty clean trolley LC is a rigorous co-worker in the rapid collection of laundries such as Dirty Sheets and pillowcases. With its features like simple to use, easy to push, easy to separate clean and dirty quickly and with its cute look, it is ready to be an indispensable part of hospitals.
How much difference can be made in the industry with a Dirty-Clean Trolley? Here are our answers;
Ease of use: the dirty clean trolley is extremely easy to move thanks to its large wheels. However, at times when the car needs to remain stationary, the central braking system can be activated by the pedal.
Cleaning: the dirty clean trolley, like other rausmann products, is made of compact laminate material that does not hold dirt. When it needs to be cleaned, it is cleaned with an alcohol-containing cleanser and returns to its first day of innovation.
Durability: a combination of the compact laminate and stainless steel with superior design and quality workmanship, the LC car is free of unnecessary parts. Made of solid parts, this product offers a long service life, even under intense conditions.
It is used to collect dirty laundry from patient rooms, intensive care, and other units, and to distribute clean laundry.
The number of dirty laundry bag carrier rings and clean laundry racks found on the car varies according to the chosen model.
Color-coded plastic caps with foot pedal control on bag carrier rings help to separate laundry and control infection.
Plastic compression bracelets attached to the bag carrier rings allow the bags attached to the rings to carry between 12 and 15 kg of dirty laundry.
Clean laundry shelves are closed type.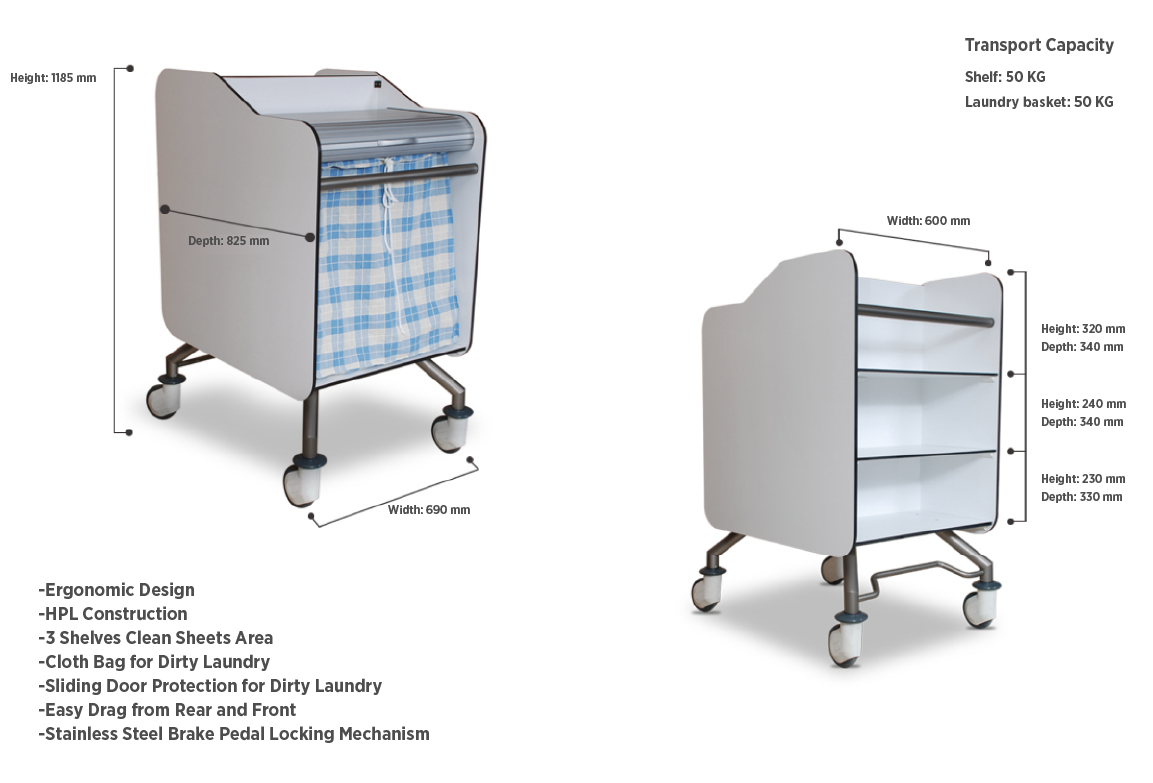 Is there something on your mind?